PT66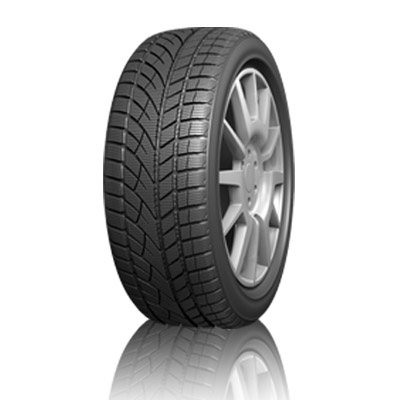 | | |
| --- | --- |
| Silica compound for excellent driving performance on ice & snow surfaces. Asymmetric pattern and wide tread for outstanding safety. | |
■Handling

Asymmetric pattern featured by three main grooves provides super manoeuvrability.

■Braking

Serrated design in the outside main groove assures high grip and braking force on ice & snow covered surfaces.


■■Snow

Deep and densely distributed grooves and steel sheet helps soften the tread, contributes to shorten braking distance on ice covered surface.


■Safety

Upgraded silica compound makes sure the tread stays soft even in low temperature, provides first-class safety.
Serrated strip design on tread circumferential direction improves resistance to sideslip.
SIZE

PR

LI

SI

Overall Diameter

Section Width

Stardard Rim

Tread Depth

Max. Load

Max.Pressure

mm

inch

mm

inch

mm

inch(32')

kg

kpa

185/60R14
82
T
578
22.8
189
7.4
5½J
9.2
12
475
300
195/65R15
95
XL
T
635
25.0
201
7.9
6J
9.2
12
690
340
205/65R15
94
H
647
25.5
209
8.2
6J
9.2
12
670
300
215/65R16
98
H
686
27.0
221
8.7
6½J
9.5
12
750
300
215/60R16
99
XL
H
664
26.1
221
8.7
6½J
9.5
12
775
340
225/60R16
98
H
676
26.6
228
9.0
6½J
9.5
12
750
300
215/55R16
97
XL
H
642
25.3
226
8.9
7J
9.5
12
730
340
225/55R16
99
XL
H
658
25.7
233
9.2
7J
9.5
12
775
340
235/65R17
104
S
738
29.1
240
9.4
7J
9.5
12
900
300
265/65R17
112
S
776
30.6
272
10.7
8J
9.5
12
1120
300
225/50R17
98
XL
H
658
25.9
233
9.2
7J
9.5
12
750
340
205/55R16
91
H
632
24.9
214
8.4
6½J
9.5
12
615
300
225/65R17
102
S
724
28.5
228
9.0
6½J
9.5
12
850
300
215/55R17
94
H
668
26.3
226
8.9
7J
9.5
12
670
300
225/55R17
97
H
680
26.8
233
9.2
7J
9.5
12
730
300
235/55R17
99
H
690
27.2
245
9.6
7½J
9.5
12
775
300
205/50R17
89
H
638
25.1
214
8.4
6½J
9.5
12
580
300
205/45R17
88
XL
H
616
24.3
206
8.1
7J
9.5
12
560
340
215/45R17
87
H
626
24.6
213
8.4
7J
9.5
12
545
300
225/45R17
91
H
634
25.0
225
8.9
7½J
9.5
12
615
300
235/45R17
94
H
644
25.4
236
9.3
8J
9.5
12
670
300
225/40R18
92
XL
H
637
25.1
230
9.1
8J
9.5
12
630
340
255/50R19
107
XL
H
739
29.1
265
10.4
8J
9.5
12
975
340