PT22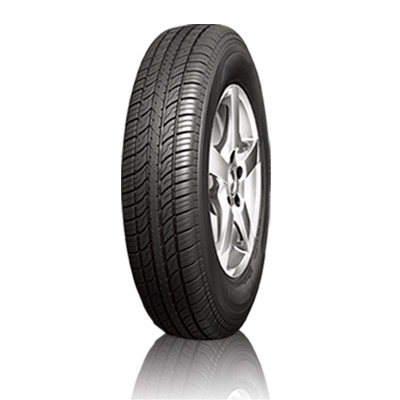 | | |
| --- | --- |
| A genuine all-terrain tire, suitable for economical cars, providing superior performance under conditions of both dry & wet roads, cold & hot weather. | |
■Comfort
Peculiar pattern design ensures good shock absorption, increases driving comfort.

■Safety
4 longitudinal main grooves contribute to efficient drainage, provide great traction on wet roads. all-season design and enhanced tread compound ensure an even pressure under all weather and excellent performance on both straight and winding pavements.

■Silence
Optimal design of pattern order with changing pitches efficiently decreases shock and noise.

■■Handling
Lateral grooves on the shoulder and crown help to provide greater traction and handling stability, ensure exact cornering and braking. Enhanced center rib improves handling efficiency, ensures driving stability.

■Economy

Fuel saving compound with peculiar patter design helps to lower rolling resistance , which contributes to reduced fuel consumption and CO2missions.
SIZE

LI

NOTE

SI

Overall Diameter

Section
Width

Stardard Rim

Tread Depth

Max.
Load

Max.Pressure

mm

inch

mm

inch

mm

inch(32")

kg

kpa

155/80R13
79
T
578
22.8
157
6.2
4.50B
8
10
437
300
165/80R13
83
T
594
23.4
165
6.5
4.50B
8
10
487
300
155/70R13
75
T
548
21.6
157
6.2
4.50B
7.3
9
387
300
165/70R13
79
T
562
22.1
170
6.7
5.00B
7.5
9
437
300
165/70R13
83
XL
T
562
22.1
170
6.7
5.00B
7.5
9
487
340
175/70R13
82
T
576
22.7
177
7.0
5.00B
8
10
475
300
185/70R13
86
T
590
23.2
189
7.4
5.50B
7.8
10
530
300
155/65R13
73
T
532
20.9
157
6.2
4.50B
7.6
10
365
300

165/65R13

77
T
544
21.4
170
6.7
5.00B
7.6
10
412
300
165/70R14
85
XL
T
588
23.1
170
6.7
5J
7.5
9
515
340
175/70R14
84
T
602
23.7
177
7.0
5J
8
10
500
300
175/70R14
88
XL
T
602
23.7
177
7.0
5J
8
10
560
340
185/70R14
88
H
616
24.3
189
7.4
5½J
8
10
560
300
195/70R14
91
T
630
24.8
201
7.9
6J
8.4
11
615
300
205/70R14
98
XL
T
644
25.4
209
8.2
6J
8.5
11
750
340
175/65R14
82
T
584
23.0
177
7.0
5J
8
10
475
300
175/65R14
86
XL
T
584
23.0
177
7.0
5J
8
10
530
340
165/60R14
75
H
554
21.8
170
6.7
5J
7.6
10
387
300
205/70R15
96
T
669
26.3
209
8.2
6J
8.5
11
710
300
215/60R16
95
V
664
26.1
221
8.7
6½J
8.8
11
690
300
225/60R16
98
V
676
26.6
228
9.0
6½J
8.9
11
750
300